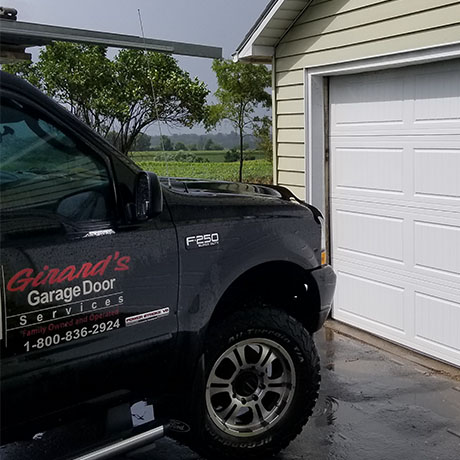 Garage Door Repair Experts in Gilbertsville, PA
Our area of expertise with garage door repair and service is very extensive and varies from replacements to garage door installations to routine garage door maintenance to keep you garage door working as best as it should!
Our team members here at Girard's Garage Door Repair in are certified trained professionals who provide top notch garage door service, excellent and detailed workmanship and reliable service. Our company services all brands of garage doors as well as garage door openers. From minor to major garage door repairs we can guarantee we will get the job done!
Garage Door Maintenance in Gilbertsville, PA- Regular maintenance is vital in ensuring that your garage door is working at its best. Letting issues go on too long without repair can lead to more damage and costly garage door repairs. During regular maintenance our technicians will inspect the tracks, springs, motor, and hinges and even make sure your remote is working correctly. You can attempt to do minor garage maintenance such as lubrication yourself however, having it done by a professional here at Girard's Garage Door Repair Services, along with a full inspection of your garage door may be a better option. 
SERVICING THE LEHIGH VALLEY AND EASTERN PA
Give us a call today. We can give you an estimate over the phone: 610-837-4738
Same Day Garage Door Repair & Service

Garage Door Broken Spring Specialists

Garage Door Section & Track Replacement
Most Major Brands of Garage Doors & Openers

Wireless Keypads, Opener Remotes, Security Devices

Power Loss and Lightning Protection Systems
Garage Door Opener Inspections/Safety Evaluation
Phenomenal service! Nigel the technician called 10 minutes before arriving. He arrived on time and within 20 minutes had solved the problem on my double garage doors. He reprogrammed the remotes and the outdoor panel, replaced a lost remote and realigned and cleaned the garage door parts. He was quick and efficient. Five Star service and a reasonable price for the work completed
Great repair job. David, our repairman, was a consummate pro. Thank you!
Mike A was very helpful and authentic. Fixed our issue right away.
Same day service, detailed explanation of problem. Would definitely recommend.
Francis Golembeski
2022-07-15
Very happy with the service from Girards. Technician Mike A. showed up earlier than his scheduled time and had our broken sping and cables replaced in no time.
Our garage door unexpectedly broke and thanks to the amazing work Michael A. did, it's back up and running! He was incredibly meticulous with both the handiwork and explanations. He made sure that we were comfortable with the repairs and honestly, went above and beyond any repairman has ever done at our house. 100/10 would recommend using Michael A and Girard's Garage Door Services!
I can definitely attest to their prompt response and outstanding customer service. I called mid-morning and Mike showed up by 2 PM and got my garage door opener fixed. Proposed work was explained pretty well and the charges around it... This is my 2nd time using their service. The first time was in the middle of a snowstorm and they 'plowed' their way to my house to fix the garage door.
Elisse Ferraro
2022-07-02
Mike A was wonderful. Took his time laying out all of the options for us. Garage door was fixed same day. Highly recommend
Now I'm not normally the type of guy to hire a repairman, but in this situation I am very happy that I did! Mike A. Was absolutely phenomenal. The service was timely, polite, friendly, knowledgeable and affordable. Mike and I talked about my garage door it's history longevity and some different things that they could do to improve/repair it. After the work was done my door went from non-functional (spring broke) to a door that has never been this quiet!! It's really a very noticeable difference and I am very glad I had them service the entire door not just replace the spring (although they would have simply done that if that's what I wanted). Great experience overall!
Garage Door Section Repair & Replacement- There are multiple reasons why your garage door could be experiencing issues. Our professional technicians will be able to diagnose if your garage door can be repaired or would need a complete replacement. We will always to repair before recommending a garage door replacement but if the repairs will not be sufficient enough to produce a reliable and safe working garage the best route to go is a complete replacement. Searching for a professional garage door service company is an important task but we can guarantee that the team here at Girard's Garage Door Services will not only make your replacement as hassle-free as possible but we will exceed your expectations.
As members of the IDA (International Door Association), our maintenance service includes:

Tightening loose nuts and bolts
Adjusting the door and opener
And making any needed adjustments in the limits and force required to open and close your door