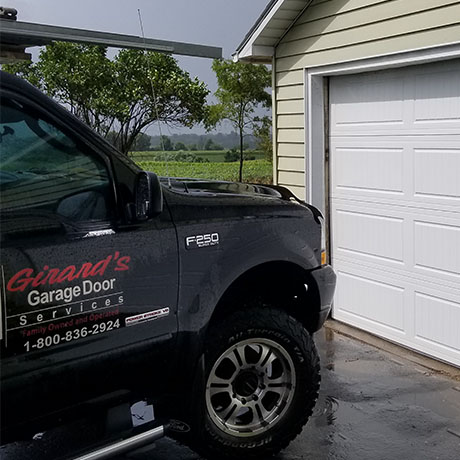 Garage Door Opener Repair in the Lehigh Valley, PA
Our dedication here at Girard's Garage Door Services is measured by our close attention to detail in both in our craftsmanship and using the highest quality garage door products that are available for your garage door repair needs. Garage door springs, garage door cables, hinges or gears for your garage door opener, we've got your garage door service repair needs covered. We value our clients are providing exceptional work is our everyday goal. Please give us a call today at 610.365.1781 so we can get the repairs you need done now!
SERVICING THE LEHIGH VALLEY AND EASTERN PA
Give us a call today. We can give you an estimate over the phone: 800.836.2924
Same Day Garage Door Repair & Service

Garage Door Broken Spring Specialists

Garage Door Section & Track Replacement
Most Major Brands of Garage Doors & Openers

Wireless Keypads, Opener Remotes, Security Devices

Power Loss and Lightning Protection Systems
Garage Door Opener Inspections/Safety Evaluation
As members of the IDA (International Door Association), our maintenance service includes:
Tightening loose nuts and bolts
Adjusting the door and opener
And making any needed adjustments in the limits and force required to open and close your door
Garage Section Repair & Replacement- There are multiple reasons why your garage door could be experiencing issues. Our professional technicians will be able to diagnose if your garage door can be repaired or would need a complete replacement. We will always to repair before recommending a garage door replacement but if the repairs will not be sufficient enough to produce a reliable and safe working garage the best route to go is a complete replacement. Searching for a professional garage door service company is an important task but we can guarantee that the team here at Girard's Garage Door Services will not only make your replacement as hassle-free as possible but we will exceed your expectations.
Garage Spring Replacement- It's highly recommended that the garage door spring mechanism should be inspected every 12 months as part of a complete garage door safety program. Just by having this routine inspection done can prevent costly and unexpected garage door repairs happening. We will be able to identify any worn metal parts or loose connections that may ultimately lead to a malfunction. One small
We also offer carriage house style doors and wind loaded doors, better able to withstand the ravages of nature. Whether you need garage door replacement due to damage or if you are performing an affordable home improvement, garage door installation costs can be offset with Energy Tax Credits on specific models.
WE PROUDLY SERVICE & INSTALL THESE GREAT PRODUCTS
Give us a call today. We can give you an estimate over the phone: 800.836.2924